ROVER | Royal Oak Very Easy Rater
ROVER has been discontinued. Please contact an Underwriter for a quote.
Click the image below to Register or Login to ROVER 2.0 today.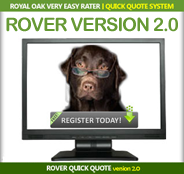 Royal Oak Underwriters is pleased to announce the launch of its Royal Oak Very Easy Rater – ROVER Version 2.0.  ROVER Version 2.0 adds the ability for Royal Oak Underwriters to quickly add new programs and classifications to meet insurance agents' requirements, and  market demands.
Agents will see a much improved interface with easy navigation; an efficient information flow;  full application capability added; ability to use a previously submitted quote to renew a client's coverage, along with numerous other benefits.
Royal Oak Underwriters will provide training videos to take you from introduction to understanding each part of ROVER Version 2.0.  These training videos will be available in the next 30 days.
ROVER version 1 will be accessible for the next 45 days as it transitions to ROVER Version 2.0 and builds new programs and classification capabilities.
For agents in Maryland, Virginia, and North Carolina check out ROVER Version 2.0. Many programs and classifications have already been created for clients in your area.  Updates for agents in the District of Columbia, Pennsylvania, and Tennessee will be coming soon!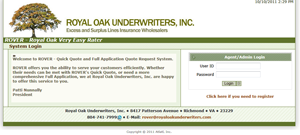 Watch a video Introduction to ROVER 2.0
Royal Oak Very Easy Rater | Agent Benefits
The Royal Oak Very Easy Rater (ROVER) system provides registered agents with several important benefits.  For example, the ROVER "Quick Quote" system allows Royal Oak Underwriters to deliver binding decisions within minutes.
Insurance agents who use the unique ROVER application system streamline processing applications.  ROVER is designed to provide fast and comprehensive surplus lines application tools that simplify the approval process and keep you focused on income-producing activities.
The Royal Oak Very Easy Rater (ROVER) system will give you the ability to:
Save completed or partially completed applications so you can make changes or resume the application process in the future.
Request a "Quick Quote" for multiple programs and classifications.
ROVER Version 2 | How To Register In Minutes
NOTE: If you are a current user of ROVER 1.0, you will need to contact Royal Oak Underwriters to obtain your new Agency ROVER ID in order to register to use ROVER Version 2.0.  Due to newly implemented security in ROVER Version 2.0, ALL current users will be required to re-register.  Current ROVER Agency IDs WILL NOT work in ROVER Version 2.0.
Gain instant access to our revolutionary online ROVER system today by following these simple instructions:
Select the ROVER Instant Access button below or on any of our web pages, and select the REGISTRATION button.
Enter your Agency's ROVER ID.
Important: If your Agency does not have a ROVER ID,

or if you have an OLD ID,

contact the ROVER Support Group at rover@royaloakunderwriters.com, or call (804) 741-7999 to request an Agency ROVER ID.
Check your prefilled agency information to be sure you entered the correct Agency ROVER ID.
Enter your first name and last name; a personally selected unique password; and your personal company email address.
Once you confirm that all information has been entered correctly, click the Submit button.
An email with your USER ID will be sent to the email address you provided.
Finally, document and save your User ID and password. This account information will be used to login to your ROVER account.
You have now completed the ROVER Registration Process and will be taken to your ROVER Welcome screen to login.